Glenn Gaddum Jr en Efe Erdem in Music Meeting Sessions en Music Meetup podcast
Op het nieuwe online muziekkanaal Music Meeting All Ears
maandag 31 mei, 2021
Music Meeting All Ears nodigt je uit om artiesten te ontdekken, van hun muziek te proeven, hun cultuur te verstaan en hun verhaal te horen. Dat doet dit nieuwe muziekkanaal met drie concepten: de Meeting Music documentaires, de Music Meetup Podcast en live-registraties van speciale projecten, onder de noemer Music Meeting Sessions.

Afgelopen zaterdag werd de video uitgebracht van de ontmoeting van twee bijzondere muzikanten, bassist Glen Gaddum Jr. en de in Nederland woonachtige Turkse trombonist Efe Erdem. In de Music Meetup Podcast vertellen ze het verhaal achter hun muziek.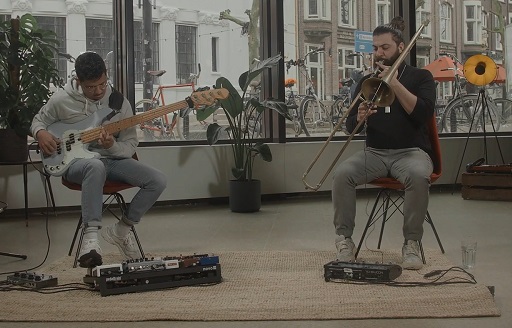 Kijk naar de Music Meeting Sessions van dit duo-optreden, opgenomen in het Festivalhuis in Nijmegen.
De sessie is geheel geïmproviseerd en beide muzikanten verkennen alle kanten van hun instrumenten, zowel puur samenspelend als met hun loopstations, waarmee ze live hun spel opnemen en in een sequence, een 'loop' zetten. Een intrigerend concert van 20 minuten.



Music Meetup Podcast
Podcasthost Roufaida Aboutaleb laat ons kennis maken met Efe Erdem en Glenn Gaddum Jr.. Ze vertellen over hun vroegste ervaringen als muzikant, over hun favoriete instrumenten en dat ze door hun luisterervaring maar een seconde Miles of Coltrane hoeven te horen om het te herkennen.

Klik hier voor het eerder verschenen artikel op MixedWorldMusic vind je meer achtergronden over Music Meeting All Ears, inclusief de volgende video's en podcasts:
* Meeting Music documentaire - Jan Douwe Kroeske portretteert Yoràn Vroom
* Music Meeting Sessions - Fuensanta Méndez en Nawras Altaky
* Music Meetup Podcast - Fuensanta Méndez en Nawras Altaky
Verwacht op Music Meeting All Ears
5 juni: Music Meeting Sessions - Rory Ronde and Yoràn Vroom
12 juni: Music Meeting Sessions - Esat Ekincioğlu and Yanna Pelser
19 juni: Music Meeting Sessions - Breno Virícimo and Gabriel Milliet
26 juni: Music Meeting Sessions - Romain Bly and Mariá Portugal
Daarnaast gaan er de komende weken tal van podcasts verschijnen.
Music Meeting All Ears: 'De magie van muziek, daar gaat het om! Met haar vermogen om te verbinden, te inspireren en grenzen te verleggen. Klik zonder kloppen en geniet! Ontdek. Kijk. Luister.

https://musicmeeting.nl/nl/all-ears
Nieuw online muziekkanaal Music Meeting All Ears releast elke zaterdag nieuwe video's en podcasts
zaterdag 12 juni, 2021
Plus de Transglobal World Music Charts Top-40
dinsdag 1 juni, 2021
Vanavond 18.00u zijn tal van video's en podcasts live gezet
zaterdag 22 mei, 2021
Live stream bevrijdingsconcert vanuit TivoliVredenburg
woensdag 19 mei, 2021
onderdeel van Old Roots New Routes 2021
dinsdag 4 mei, 2021
Plus de Transglobal World Music Charts Top-40
zaterdag 1 mei, 2021
Maite Hontelé over haar ambitie als artistiek leider van Music Meeting
vrijdag 30 april, 2021
Première op zaterdag 22 mei, eerste dag van het pinksterweekend
woensdag 28 april, 2021
Plus de Transglobal World Music Charts Top-40
donderdag 1 april, 2021
Plus de Transglobal World Music Charts Top-40
maandag 1 maart, 2021